Lake Lanier
Lake Sidney Lanier, completed in 1956 covers 38,000 acres and touches 5 counties - Lumpkin, Hall, Dawson, Forsyth and Gwinett. In addition, there are 19,000 acres of controlled shore land above 1070 mean sea level. Operated by the U. S. Army Corps of Engineers the lake's purpose is to provide power, water supply, navigation, flood control, and recreation. Lake Lanier is the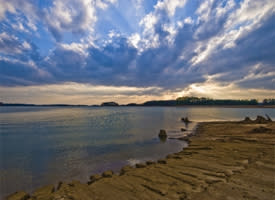 most visited of all of the federally operated lakes in the U.S. with 19 million visitors annually. While only a small portion of the lake is in Lumpkin County, the county maintains a boat access ramp and a recreation area at the Lumpkin County park 8.5 miles east of Dahlonega. Fishing, boating and camping are the main recreational activities although duck and goose hunting is allowed in season.
Boating
A boat ramp is provided at the Lumpkin County Park 8.5 miles from the Dahlonega Square (see map below). During periods of low water level, it is not possible to launch a boat from a trailer, however, small boats and canoes can be carried to the water from the ramp. Parking is available at the boat ramp.
The types of fish found in the lake are spotted bass, striped bass, largemouth bass, black crappie, and walleye. Georgia fishing licenses are available online and at the following Dahlonega locations:
Walmart Super Center
(706) 867-6912
270 Walmart Way, Dahlonega, GA 30533
www.walmart.com
The Etowah and the Chestatee Rivers near Dahlonega provide enjoyable and challenging canoeing and kayaking with predominately Class I and II rapids. Before planning trips on these rivers, you should consult persons knowledgeable about the...
Read More
Some of our visitors come to Dahlonega for the dining alone! Enjoy casual fine dining in nationally recognized restaurants to new bistros that have already earned their place among our culinary champions.
Read More