Kayaking, Canoeing & Tubing
Canoe and Kayak Trips in the Dahlonega Area
The 40 mile area around Dahlonega offers a significant selection of premier mountain whitewater and flatwater for canoeists and kayakers. This guide is provided for visitors and local residents to highlight 27 canoe and kayak trips in the Dahlonega area. While there are brief descriptions of the river sections, this guide does not contain detailed description of the river sections, although it does contain cursory information on significant rapids and hazards. For detailed information, see the resources section at the end of this guide. The two most significant resources are the Georgia Canoe Association and the book Canoeing and Kayaking in Georgia. This guide provides detailed driving directions and parking information from the Dahlonega square. Visitors and locals who enjoy paddling, whether flatwater or whitewater, but are unfamiliar with what is available, can easily find all opportunities within 40 miles by using this guide.
Key:
A)–Location on Map, Hightower Bridge–Name of access point, (USFS)–Access point ownership, 5.5 miles–section length, Class II-Whitewater Class rating, (IV)-denotes advanced rapid that can be easily portaged. Highway right of way and USFS parking is uncontrolled and often remote. Be sure to lock vehicle and take valuables.
ROW (Highway Right of Way); Public Access Launch Site (PALS); Lumpkin County Park (LCP)
USFS (US Forest Service); State of Georgia (GA); Privately Owned Launch Site (POLS)
Etowah River

The Etowah River is named after Etowah Mounds, the historic "capital" of the Cherokee nation. The name Etowah has been changed in some cases to "Hightower". The actual meaning of Etowah is not known. The Etowah River is smaller, quicker, and in general more challenging than the Chestatee River. The Etowah lies in the heart of the "gold country" - part of the river actually goes through a tunnel once used to divert the waters for the mining of the river bed. Huge hemlocks, majestic rock cliffs, and mountain laurel are just some of the treasures you'll find on the scenic Etowah River.
The 163 mile long Etowah River begins in Lumpkin County near Hightower Gap in the Chattahoochee National Forest. It becomes accessible and navigable at Hightower Bridge in the National Forest. The first impoundment of the Etowah is at Lake Allatoona near Cartersville, GA. In Rome, GA, the Etowah joins the Oostanaula River to form the Coosa River which makes its way through Alabama to Mobile Bay and the Gulf of Mexico.
Chestatee River

Chestatee is derived from the Cherokee word for "fire light place" referred to because of night hunting by the Cherokees on the river using torch light. When gold hungry settlers came, the Cherokees were forced west of the Chestatee and then on the "trail of tears". Since that time the Chestatee has been panned, dammed, logged, and dredged into a different river than the Cherokees once knew. Between the Old Copper Mine on Copper Mine Road and the Lumpkin County Park on Lake Lanier, 3 highways cross over the Chestatee River offering trips of different distances and excitement.
The Chestatee River begins at the confluence of Dicks Creek and Frogtown Creek near Turners Corner in Lumpkin County. It runs 50.8 miles to the Chattahoochee River, with 18 miles under Lake Lanier. It is a major tributary of the Chattahoochee River. The upper Chestatee offers challenging Class II and III rapids and the Class IV Grindle Falls, but access is very limited due to private property issues. This guide will begin at the Highway 52 Bridge with public access.
Yahoola Creek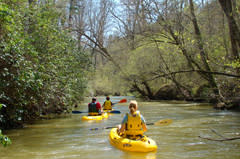 Yahoola Creek begins in the Chattahoochee National Forest north of Dahlonega and is dammed at Lake Zwerner, the Dahlonega Reservoir. From here, it flows through a narrow valley with significant whitewater, but does not become easily accessible for boating until passing through Yahoola Creek Park in Dahlonega. Yahoola Creek enters the Chestatee River at the Appalachian Outfitters Tubing Outpost 2.2 miles from the square. Yahoola Creek's best access point is in Yahoola Creek Park, which is home to baseball, softball, and soccer fields. It also has tennis courts. Besides basic park fixtures there is a community garden and 2 miles of hiking/walking trails.
Chattahoochee River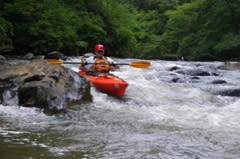 The Chattahoochee River, like all the rivers so far in this guide, has its headwaters in the Chattahoochee National Forest. The spring is located at Chattahoochee Gap on the Appalachian Trail. The river flows through Atlanta and becomes the Apalachicola River at the Florida state line, entering the Gulf of Mexico at Apalachicola Bay. The Chattahoochee in the upper section is very scenic and a pleasant deep emerald color, typical of cold mountain waters. It offers a variety of up to Class III rapids. Note that high water on this river increases the class rating and difficulty of rapids on this river. This guide will cover the six sections comprising the Upper Chattahoochee River Blue Trail. The Blue Trail offers camping at Buck Shoals State Park, Mossy Creek State Park, and the new Don Carter State Park. It is possible to arrange shuttle services from Wildwood Outfitters for all Chattahoochee sections covered in this guide (see info at end of guide).
Amicalola Creek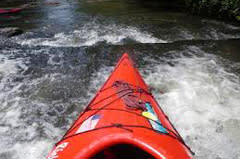 The Amicalola, called a creek on some maps and a river on others, lies entirely in Dawson County. It is navigable above Six Mile Campground, but is subject to downed trees and problematic parking. The Amicalola offers some of the most spectacular scenery and challenging whitewater in the northern part of the state. Its flow is almost entirely within Dawson Forest State Forest, a managed state forest and wildlife management area. It features several Class II rapids on the upper Amicalola, and a solid mile of up to Class III (IV) rapids just below Highway 53. The Amicalola is also a prime trout fishing stream. The Amicalola enters the Etowah River in Dawson Forest. All accesses covered in this guide are now fee areas. For parking, a Georgia Outdoor Recreation Pass must be secured by phone or internet from the Department of Natural Resources. A 3 day GORP is $3.50 and an annual GORP is $19. See GORP in the Resources section at the end of the guide. Note: there are no pay stations at the access points.
Cartecay River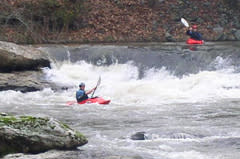 The Cartecay River is a 19.1 mile-long river that runs through Ellijay, and is one of the most popular whitewater runs in the north Georgia mountains, probably due to many Class I and Class II rapids and close proximity to Highway 52. The first 3 miles of scenic paddling are a placid prelude to 7 miles of outstanding whitewater. The river is scenic, but runs by many houses and lawns that stretch down to the edge of the river are common below Lower Cartecay Road. Best behavior is paramount here and avoidance of trespassing on the riverside private property. Notable rapids are Blackberry Falls and Clear Creek Falls.
Toccoa River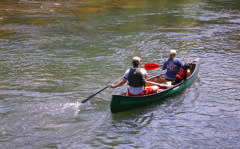 The Toccoa River headwaters are in the Chattahoochee National Forest and flows near the route of Highway 60 to Blue Ridge Lake. Below the lake, when entering Tennessee, the Toccoa becomes the Ocoee River. The Toccoa offers a 13.8 mile US Forest Service Canoe Trail. It begins and ends in the National Forest with some private property in between. This section of the Toccoa is extremely scenic and is excellent trout habitat. If fishing, read information on the Forest Service website for this river on restrictions on private property. Since it is mostly Forest Service land, much of the run is open to camping and makes an excellent canoe camping trip. The section has many Class I and Class II shoals and rapids with the largest, a solid Class II+ being just below the Benton MacKaye Trail swinging bridge. From here, the river offers sections of placid floating with more Class I and IIs.
Be aware that river law in Georgia is different from most other states. Land ownership, instead of ending at the highwater mark, extends to the middle of the river or creek channel. The surface of the water is public, but the bottom is not. Therefore, to be out of your boat constitutes trespassing. If the land on both sides of the river is owned by one owner, it is permissible to put a fence or other obstruction across the river. Many landowners also do not welcome fishermen in "their" waters. It is illegal to fish in waters with the same landowner on both sides. For these reasons, the relationship between boaters and landowners is sometimes tenuous. Boaters have been arrested and fined for violations of these laws. Please help to preserve good boater/owner relationships and use courtesy and common sense when using these waterways. If it is necessary to portage a blowdown or other obstruction, do so quickly and quietly. Do not loiter on shore or take breaks on privately owned land. Use rocks in the river when possible to scout rapids or take breaks. When traversing public lands such as those managed by the US Forest Service or the Georgia DNR, feel free to use the land as well as the river. Do not change clothes on private property or in sight of privately owned land. Do not block driveways or roads when parking. The boating community has for the most part built good relationships with most river property owners, and all boaters should help maintain this relationship.
Keep these tenets in mind and enjoy the water!
Other streams and rivers in the area that are not included in this guide:
Due to lack of easy public access, these waterways are not listed in this guide. If interested in the possibility of paddling any of these, contact the Georgia Canoe Association or other local experienced paddlers. Check the information section below for additional resources.
Tesnatee Creek
Upper Chestatee River above Highway 52
Upper Yahoola Creek above Yahoola Creek Park
Upper Chattahoochee River above the confluence with Sautee Creek
Soque River
Mossy Creek
Lower Chattahoochee River below Buford Dam
Upper Toccoa River above Deep Hole Canoe Launch
Lower Toccoa River below Sandy Bottom
---
Resources:
Canoeing & Kayaking Georgia, Menasha Ridge Press, 2004
Appalachian Outfitters, call: (706) 864–7117
Chestatee River Adventures, call: (770) 540-9950
Wildwood Outfitters, call: (706) 865-4451
Chattahoochee National Forest, call: (770) 297–3000
Cartecay River Experience, call: (706) 531-4746
Ellijay River Outfitters, call: (706) 889-8697
USFS Blue Ridge District office: 2042 Highway 515 West, Blairsville, GA 30512, Phone: (706) 745–6928
Lumpkin County Sheriff's office: (706) 864–0412
Gilmer County Sheriff's office: (706) 635-5775
Fannin County Sheriff's office: (706) 632-2044
Dawson County Sheriff's office: (706) 344-3535
White County Sheriff's office: (706) 865-5177
Hall County Sheriff's office: (770) 531-6900
Forsyth County Sheriff's office: (678) 513-5982
Medical Facilities:

Chestatee Regional Hospital, 227 Mountain Dr, Dahlonega, GA
Union General Hospital, 35 Hospital Road, Blairsville, GA 30512
Fannin Regional Hospital, 2855 Old Highway 5, North Blue Ridge, GA
Northeast Georgia Medical Center, Northeast Georgia Medical Center - Gainesville, GA
Northside Hospital–Forsyth, 1200 Northside Forsyth Drive, Cumming, GA
This information compiled and prepared by Tom Lamb for the Yahoola Trails Conservancy and the Dahlonega Trail Fest for use by the Dahlonega-Lumpkin County Chamber & Visitors Bureau
Last Revised November 2013
Whether you stay for a night or an entire week, a Dahlonega visit means restful nights with charm and hospitality for those looking for a soothing escape. From romantic getaways to campgrounds where you can sleep under the stars, Dahlonega...
Read More
Download North GA Waterfall AppFrom roaring waterfalls to gurgling cascades, the mountains of North Georgia offer some of the best falls in the United States. While there are over 120 waterfalls in North Georgia, these are some of the most...
Read More