Gold Fever Package
Experience Gold Fever in Dahlonega! The Gold Fever Package offers discounted tickets to local gold attractions where you can learn about the history of the Dahlonega Gold Rush, explore an underground gold mine, and try your hand at panning for gold yourself!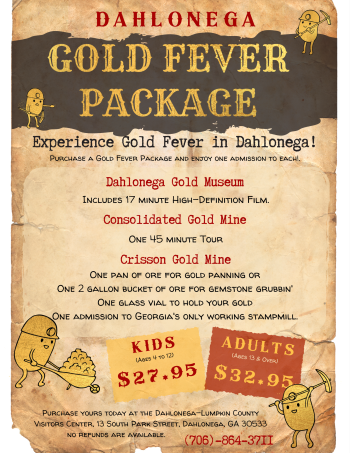 Purchase a Gold Fever Package and Enjoy One Admission to Each:
Crisson Gold Mine
- One pan of ore for gold panning OR One 2 gallon bucket of ore for gemstone grubbin'
- One glass vial to hold your gold
- One admission to a tour of Georgia's only working 126-year old stamp mill
Prices:
Adults (Age 13 and Over)
$32.95 per person
(Save $5.00 off normal retail prices)
Children (Age 12 and Under)
$27.95 per person
(Save $1.50 off normal retail prices)
      Prices are subject to change.
Purchase:
Purchase yours today at the:
   Dahlonega-Lumpkin County Visitors Center
   Located in Historic Downtown Dahlonega
   13 South Park Street, Dahlonega, GA 30533
   (706) 864-3711
From the dome of Atlanta's Capitol to University of North Georgia's iconic Price Memorial Hall gold-covered steeple and the Smithsonian-worthy Chestatee River Diving Bell, Dahlonega's gold legacy lives on.
Read More
Twenty years before the 1849 gold rush to California, thousands of gold seekers flocked into the Cherokee Territory of northeast Georgia, beginning the nation's first major gold rush.
Read More