Bear On The Square Mountain Festival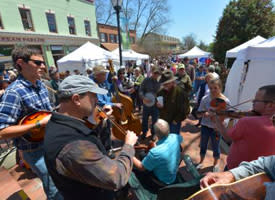 The Bear on the Square Mountain Festival is an incredible weekend of music and art held each spring in the foothills of the North Georgia mountains. Old-time and bluegrass music will fill the Historic Public Square in Dahlonega, Georgia. Jamming goes on day and night around the square while other local, regional, and national musicians take the stage all day Saturday and Sunday.
A juried artist's marketplace features traditional mountain art and crafts. Extensive music workshops, a Sunday morning Gospel Jam, a street dance, a live auction, children's activities, a heritage center demonstrating mountain traditions, and of course, food, complete the offerings, making Bear on the Square the perfect outing for the whole family.
(706) 348-1370
Public Square, Dahlonega, Georgia 30533
www.bearonthesquare.org
Third full weekend in April (re-scheduled for 2021)
Some of our visitors come to Dahlonega for the dining alone! Enjoy casual fine dining in nationally recognized restaurants to new bistros that have already earned their place among our culinary champions.
Read More
Whether you stay for a night or an entire week, a Dahlonega visit means restful nights with charm and hospitality for those looking for a soothing escape. From romantic getaways to campgrounds where you can sleep under the stars, Dahlonega...
Read More