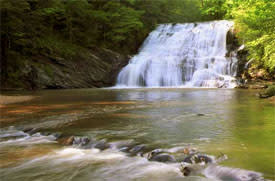 Located on the grounds of Camp Glisson, Cane Creek Falls is open to the public during daylight hours except when camp is in session. You must check into the Visitors Center prior to visiting the falls.
To reach the falls from Dahlonega follow highways Business US19 and GA60 north for 2 miles. Turn left at the sign for Camp Glisson (across from Ace Hardware) and go 1 mile to the parking area near the bottom of the falls. Swimming is not permitted and fishing is permitted on a catch and release basis.
For more information, visit Jack Anthony's "Waterfalls of North Georgia".