First Friday Night Concert Series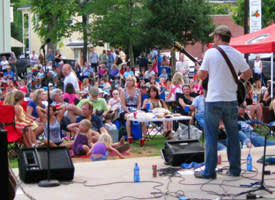 The Music in the Park series showcases the diversity of local musicians monthly. Bring a picnic supper to Hancock Park (located one block north of the Square) and spend some time with your family and friends. This free series held on the first Friday of each month from May through October is an excellent way to wind down from the week and set the tone for a great weekend.
First Friday Concert Series: May - October 6:30 – 8:30 pm in Hancock Park 2022
May: LCHS Band
June: Gina Gailey Band
July: Radford Windham & Step back Cadillac
August: Southern Accent
September: Ugly Cousin October: Kurt Thomas

Hancock Park, North Meaders Street & Warwick Street, Dahlonega, Georgia 30533
www.dahlonegadda.org
First Fridays, May through October
"Dahlonega was an incubator for me and many upcoming bands. It's an ideal place to listen to some really outstanding music in a fun atmosphere, where you can discover new talent and hear some of the great established...
Read More
Some of our visitors come to Dahlonega for the dining alone! Enjoy casual fine dining in nationally recognized restaurants to new bistros that have already earned their place among our culinary champions.
Read More