Geocache
Geocaching is a high-tech treasure hunting game played throughout the world by adventure seekers equipped with GPS devices. The basic idea is to locate hidden containers, called geocaches, outdoors. A typical cache is a small waterproof container containing a logbook. Larger containers can also contain items for trading, usually toys or trinkets of little value. Geocaching is most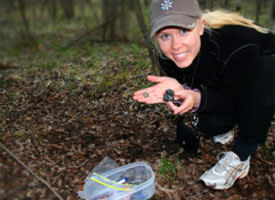 often described as a "game of high-tech hide and seek", sharing many aspects with orienteering, treasure-hunting, and waymarking. Geocaching is enjoyed by people from all age groups, with a strong sense of community and support for the environment.
The Dahlonega area has many geocaches sure to provide hours of entertainment. Check out all the great geocaches at www.geocaching.com. Put in Dahlonega's zipcode 30533 or coordinates N 34° 31.833 W 083° 59.083 for a complete list.
Georgia State Parks Geo-Challenge
It's easy to see why geocaching is rapidly becoming one of the most popular outdoor activities in Georgia State Parks. Geocaching combines the high-tech feel of online games with the old-fashioned fun of a treasure hunt. It's the perfect activity for families and grandparents who are getting in on the experience, too! For more information on the Georgia State Parks Geo-Challenge, please visit www.gastateparks.org/geocaching.