Golf
The North Georgia Mountains provide a beautiful landscape that is ideal for a challenging golf course. With rolling hills and an abundance of lakes and streams, these Dahlonega courses preserve nature's beauty and will satisfy all skill levels; from the beginner to the avid golf player.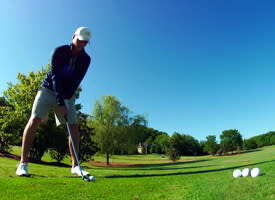 Nicklaus Golf Club at Achasta
(706) 867-7900
639 Birch River Drive, Dahlonega, Georgia 30533
www.achasta.com
"We have not forced or tried to create features that aren't natural to the site. Therefore, our landforms are very broad, bunkers are deep, but relatively simple in shape, and the entire site flows very naturally."
- Jack Nicklaus
This natural, classic Jack Nicklaus Signature golf course blends harmoniously with its surroundings, located in the foothills of the North Georgia Mountains along the Chestatee River with the river coming into play on over half the holes. The seasoned golfer, as well as the enthusiastic novice will thoroughly enjoy playing this challenging, but fair, and aesthetically pleasing course.
Achasta is honored to have been selected as home of the PGA Tour's 2007-2008 AT&T Classic Qualifier, 2002-2006 Bell South Classic Open Qualifier, 2002 Georgia State Amateur Qualifier, 2003 US Open Qualifier and the 2004 Georgia State Mid-Am Qualifier.