Horseback Riding
Several opportunities are available for horseback riding in the Dahlonega area. Local resorts offer trail rides and riding trails exist in the Chattahoochee National Forest to give riders a range of trail options. Local businesses offer trail rides, riding instructions, dinner wagon cookouts and other services.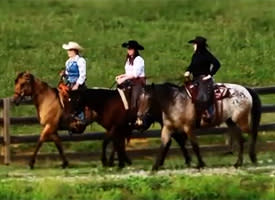 Dahlonega Carriage & Horse Rides
(706) 867-9395
415 Forrest Hills Road, Dahlonega, GA 30533
www.goldcitycorral.com
Take a trip back to the Old West! Dahlonega Carriage & Horse Rides will drive your group in horse-drawn wagons for a 20-minute ride to the ''Riverhouse''. This rustic 1800's style Riverhouse has 2 stories with 2,500 square feet in the forest alongside a stream. Here you will enjoy good old home cooking with steaks and BBQ chicken cooked on the grill. Just outside is the bonfire camp, sand volleyball court, badminton, panning for gold and horseshoe pitching on the island.
Sunny Farms North
(706) 867-9167
1332 Longbranch Road, Dahlonega, GA 30533
www.sunnyfarmsnorth.com
Located amidst the Blue Ridge Mountains in Historic Dahlonega, Sunny Farms North is Family Owned and Operated. Their gentle stock, knowledgeable staff and an assortment of landscapes offer you an unforgettable riding experience. Enjoy a day of exploring and learning on your own, or hand the reigns over to one of the trail guides.  Either way, you are sure to have an amazing time.
Chattahoochee National Forest Trails
The Jake and Bull Mountain Trail System provides approximately 36 miles of recreational trails for equestrians, mountain bikers, and hikers. The Jake Mountain Trail System and Bull Mountain Trail System connect to form a complex system of scenic trails within a four-square-mile area of the Chattahoochee National Forest's Blue Ridge Ranger District. This area is located in western Lumpkin County, less than ten minutes from downtown Dahlonega. The system is made up of interconnecting dirt trails and gravel roads which are accessed by two trailheads.
Loops of varying length from 4.5 miles to 20 miles are available, offering a wide variety of scenery. Access to the Bull Mountain Trail trail and parking lot is off of GA Hwy 52-W. From Dahlonega take 52-W to the Nimblewill Road on the right (approximately 8 miles). Take Nimblewill Road to the Nimblewill Church (2.2 miles). Just before reaching the church turn right on Forest Service Rd 28-1 towards Jones Creek and Camp Wahsega. After 0.3 miles turn left on Forest Service Rd 83 indicated by parking signs. Parking lot is 1.5 miles on right on winding gravel road and will accommodate approximately 20 vehicles with horse trailers. Pull through parking areas are provided at the Jake Mountain trail head. Access to the Jake Mountain parking area is on the right between Hwy 52-W and the Forest Service Rd 28-1. A National Forest parking fee is required.
These trails and trailhead facilities are available through the efforts of volunteers working with the U.S. forest Service and are partially funded through a NRTFA (National recreational Trails Fund Act) grant.
Lumpkin County was created on Dec. 3, 1832 by an Act of the General Assembly of the State of Georgia. The boomtown of Auraria, Dahlonega, and all of Lumpkin County's heritage includes the Cherokee Nation and our Nation's first gold...
Read More