Stargazing
There's nothing quite so spell-binding as looking up into a starry sky filled with constellations, distant planets, and a golden moon. As a small city, miles from the big lights of the suburbs of Atlanta, Dahlonega produces minimal light pollution so you can easily view starry skies in the mountains.
George E. Coleman, Sr. Planetarium & Observatory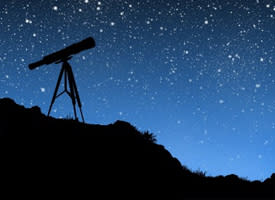 (706) 864-1471 (Planetarium Info)  |  (706) 864-8642 (Observatory Info)
UNG Health & Natural Sciences Building, Room 234, Dahlonega, Georgia 30533
www.ung.edu/planetarium
Public shows on Fridays, 8:00 pm - 9:00 pm during semester.
The star theater seats 46 and houses a Spitz 512 planetarium projector which can display 1000 northern and southern sky stars on a thirty-foot diameter dome. The effect is a realistic simulation of the night sky as seen from anywhere on the surface of the Earth at any time of night and at any epoch from the ancient past to the far future. In addition, an automated cove lighting system and CRT projector can provide special effects to lift you into the solar system on voyages to the planets.
The five naked-eye planets, the sun, and the moon can be projected in their correct relationship to the celestial sphere. Daily and annual motion of the stars, planets, moon (with phases) and sun provide an invaluable teaching aid for understanding the basic celestial motions and their connection to time and the seasons.
The general public and students are also invited to come out to the observatory on Friday nights after the planetarium show for celestial viewing. The Friday telescopic viewing always begins at 9:30 pm, weather permitting.
Whether you stay for a night or an entire week, a Dahlonega visit means restful nights with charm and hospitality for those looking for a soothing escape. From romantic getaways to campgrounds where you can sleep under the stars, Dahlonega...
Read More
The Chattahoochee National Forest makes up one-third of Lumpkin County, providing ample opportunities for hiking, mountain biking, horseback riding, off-roading, and ATV driving. Tubing, canoeing, and kayaking on the Chestatee or Etowah...
Read More