Dicks Creek Falls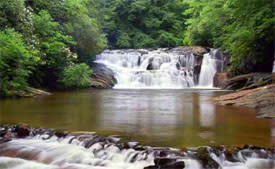 Dicks Creek Falls is located in the Chattahoochee National Forest just below the confluence of the Dicks and Waters Creek.
To reach the falls go north from Dahlonega 13.7 miles on US19 to Mt. Pisgah Church Road (one half mile before reaching the junction of US19 and US129 at Turner's Corner) marked by a US Forest Service sign indicating Waters Creek Campground. Turn left on this road and go 2.6 miles to the falls which will be on the left. This falls and the shoals above it are popular for wading and sunning in the summer, however care should be exercised when walking on the slippery rocks and under no circumstances should one dive into the pools.
For more information, visit Jack Anthony's "Waterfalls of North Georgia".
Festivals are an integral part of Dahlonega's rich heritage and a superb way to take in the outdoor beauty of the area -- and Dahlonega's delightful downtown. Visitors and locals alike look forward to attending the many year-round...
Read More
There are many hiking trails both for day hikes and backpacking trips near Dahlonega in the Chattahoochee National Forest Trails of Lumpkin County. Download the "Hiking Trails in the Dahlonega Area" guide to learn about 22 trails in...
Read More