Raven Cliff Falls
The trail to Raven Cliff Falls is 5 miles round trip along Dodd Creek to the cliffs where the creek plunges through a narrow opening in the cliff. Along the trail to Raven Cliff Falls which follows along Dodd Creek, there are several falls. This a pretty trail and is moderate walking through rhododendron and hemlock forests following the creek by numerous small waterfalls. However, the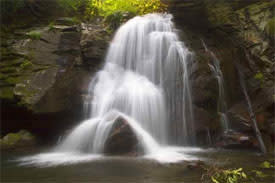 trail becomes fairly steep near the end. The trail and falls are located within the Mark Trail Wilderness Area.
To reach the falls from Dahlonega head north on GA9 / Morrison Moore Parkway for 13 miles, then turn right onto US-129 for 7 miles. Turn left onto GA75-Alt for 6 miles, then turn left onto GA348 / Richard B Russell Scenic Highway. After 2.5 miles, the falls will be on the left.
For more information, visit Jack Anthony's "Waterfalls of North Georgia".
Whether you stay for a night or an entire week, a Dahlonega visit means restful nights with charm and hospitality for those looking for a soothing escape. From romantic getaways to campgrounds where you can sleep under the stars, Dahlonega...
Read More
Long regarded by professional riders such as Lance Armstrong as some of America's most challenging bicycling this area provides enjoyment for riders of all skills. In 2005 the Georgia General Assembly recognized Dahlonega and Lumpkin...
Read More