Historical Markers
The history of Dahlonega and Lumpkin County is extremely rich and now you can learn all about our deep historical roots at your leisure with the Historical Markers of Lumpkin County Guide and App! Historical Markers are erected in locations throughout Dahlonega and Lumpkin County and share details of monumental moments and locations in the city and county's famous past.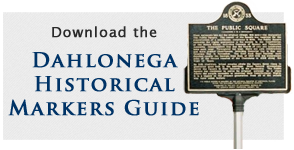 Listed here are all of the historic markers in Lumpkin County. The letter refers to the location on the map. The text following the map reference letter is the text found on the marker. Grammatical errors in the marker texts below reflect exact wording on the markers. Directions and distances are provided from the Dahlonega Visitors Center. A walking tour of the historic markers found in town can be accomplished by using locations D, E, F, G, and H. If followed in that order from the Visitors Center and back, the distance is a total of 1 mile.
Prefer a digital version of the Guide? Download the Historical Markers of Lumpkin County App from the Apple Store or Google Play.
Many famous gold mines of the Dahlonega era were along this ridge on both sides of this highway. The saprolite and vein gold mining operations along here contributed much to the ,000,000 in gold taken from this district.

Surface and underground mining began here with the discovery of rich gold shoots. This occurred near the close of the placer mining period during which much gold was recovered by working rich gravels along the streams with so-called "Dahlonega method". Water was conducted by canals from the headwaters of Yahoola Creek. The many huge cuts observable along this ridge were made by this method of mining.

Getting there from Dahlonega Square: 1 mile. Take Main Street west around the square and exit the square to the south on South Chestatee Street. In 0.5 mile, go straight at the traffic light, remaining on Highway 19/60 for 0.4 mile. Turn left onto the street beside the Shell Station. Park on the side of this street that ends at a gate or in the Shell Station. The marker is located on the south side of this street and the east side of Hwy 60 in the grassy area.
Dahlonega's historic public square is the hub of the county's thriving tourism industry, and residents enjoy the city's charm as much as visitors do. Connected by shaded brick sidewalks, shops, galleries, restaurants, and...
Read More
Whether you stay for a night or an entire week, a Dahlonega visit means restful nights with charm and hospitality for those looking for a soothing escape. From romantic getaways to campgrounds where you can sleep under the stars, Dahlonega...
Read More