Crisson Gold Mine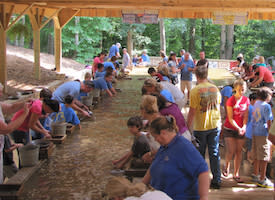 Crisson Gold Mine is an actual open pit gold mine that was established in 1847, and was worked commercially until the early 1980s. At Crisson Gold Mine, there is a 125-year-old stamp mill that is still used to crush quartz rock which contains gold. This crushed rock is called ore. In addition to the stamp mill, the mine has rod mills and jaw crushers that are occasionally used. All of these antique gold mining machines along with the open pit mine can be seen when you visit the gold mine.
Crisson Gold Mine sells ore by the 5-gallon bucket, so you can pan for the gold at the gold mine, or you can take the ore home with you.
For our more serious gold miners, trommels are available for your use during your visit to Crisson Gold Mine. These machines are used to separate the gold from the sand at a much more efficient pace. Several buckets of ore can be finished in less than half the time it takes to pan them out. The use of the trommel is free when you purchase six (6) buckets of ore. This is a great mining experience.
Crisson Gold Mine also has Gem Stone grubbing. You can find rubies, emeralds, sapphires, crystals, amethysts, garnets, and many more. This dirt is from Franklin, North Carolina which is famous for its rubies and sapphires. There have been some very good quality gems found at Crisson Gold Mine and some gems have even been made into jewelry.
(706) 864-6363
2736 Morrison Moore Parkway East, Dahlonega, Georgia 30533
www.crissongoldmine.com
See website for hours of operation. Closed certain holidays.
There are many hiking trails both for day hikes and backpacking trips near Dahlonega in the Chattahoochee National Forest Trails of Lumpkin County. Download the "Hiking Trails in the Dahlonega Area" guide to learn about 22 trails in...
Read More
Dahlonega's historic public square is the hub of the county's thriving tourism industry, and residents enjoy the city's charm as much as visitors do. Connected by shaded brick sidewalks, shops, galleries, restaurants, and...
Read More