Bicycling & Mountain Biking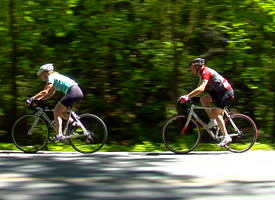 Long regarded by professional riders such as Lance Armstrong as some of America's most challenging bicycling this area provides enjoyment for riders of all skills. In 2005 the Georgia General Assembly recognized Dahlonega and Lumpkin County as the foremost bicycling venue in the Southeast and Georgia's premier sport cycling community.
Whether your idea of cycling is road biking, extreme mountain biking or hybrid cycling Dahlonega has something to offer. From USFS Bull Mountain extreme course to exciting backcountry roads through the Chattahoochee National Forest off-road bicyclist love Dahlonega. For the tour enthusiast, Dahlonega hosts such events as the Six Gap Century and Three Gap Fifty Bike Ride annually with up to 11,200 feet of vertical climbing. These same courses are enjoyed by thousands of recreational riders spring through fall.
Mountain Biking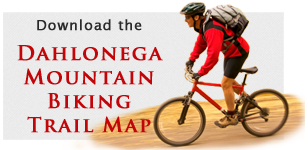 The Chattahoochee National Forest near Dahlonega offers some of the best mountain biking to be found in Georgia. The trails originating in the Chattahoochee National Forest in the Nimblewill area offer a range of difficulty and beautiful scenery. The trails are shared with horseback riders. Care should be taken when approaching horseback riders not to frighten horses.
Chattahoochee National Forest Trails
The Jake and Bull Mountain Trail System provides approximately 36 miles of recreational trails for mountain bikers, hikers, and equestrians. The Jake Mountain Trail System and Bull Mountain Trail System connect to form a complex system of scenic trails within a four square mile area of the Chattahoochee National Forest's Blue Ridge Ranger District. This area is located in western Lumpkin County, less than ten minutes from downtown Dahlonega. The system is made up of interconnecting dirt trails and gravel roads which are accessed by two trailheads.
Loops of varying length from 4.5 miles to 20 miles are available, offering a wide variety of scenery. Access to the Bull Mountain Trail trail and parking lot is off of GA Hwy 52-W. From Dahlonega take 52-W to the Nimblewill Road on the right (approximately 8 miles). Take Nimblewill Road to the Nimblewill Church (2.2 miles). Just before reaching the church turn right on Forest Service Rd 28-1 towards Jones Creek and Camp Wahsega. After 0.3 miles turn left on Forest Service Rd 83 indicated by parking signs. Parking lot is 1.5 miles on right on winding gravel road. Pull through parking areas are provided at the Jake Mountain trail head. Access to the Jake Mountain parking area is on the right between Hwy 52-W and the Forest Service Rd 28-1. A National Forest parking fee is required.
These trails and trailhead facilities are available through the efforts of volunteers working with the U.S. forest Service and are partially funded through a NRTFA (National recreational Trails Fund Act) grant.
Whether you stay for a night or an entire week, a Dahlonega visit means restful nights with charm and hospitality for those looking for a soothing escape. From romantic getaways to campgrounds where you can sleep under the stars, Dahlonega...
Read More