Contact
There's nothing that makes us happier than hearing from folks who are considering a visit to Dahlonega. If you have questions, comments or there's any other kind of help we can provide, we hope you'll use the information below to contact us or call us at (706) 864-3711 or (800) 231-5543.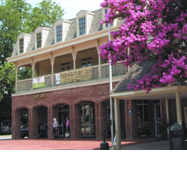 Dahlonega-Lumpkin County Chamber & Visitors Bureau
13 South Park Street
Dahlonega, GA 30533 

If you have a Chamber of Commerce related question, please contact info@dlcchamber.org.