Chattahoochee National Forest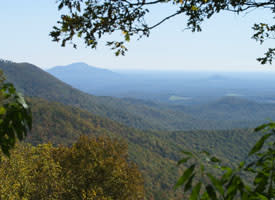 If you're into the great outdoors, you've come to the right place. The Chattahoochee National Forest is a great place to have fun and adventure doing the things you love to do such as: hunting and fishing; hiking, biking, and horseback riding; swimming, canoeing, and kayaking; nature study, photography, and viewing great scenery.
Georgia's national forests are said to be a hiker's paradise. Winding trails lead visitors through scenic mountains and rolling hills, by wild rushing rivers and cascading waterfalls. They also lead visitors through the history books: Spanish conquistador Hernando de Soto's futile search for gold, the United States' first frenzied gold rush. The Cherokee Indians' struggle to hold on to heir lands, and major battles of the Civil War.
Ten wildernesses, 1,367 miles of trout streams, and 430 miles of trails enrich the Chattahoochee National Forest. The famous 2,135-mile Appalachian Trail begins here and hardy hikers don't see the end until they reach Maine!
Drive along the Ridge and Valley Scenic Byway, which tours the Armuchee Ridges of the Appalachian Mountains. Several major Civil War battles were fought in this area, most of them centered around the railroad, which stretched from Chattanooga, Tennessee to Atlanta, Georgia.
Don't forget to stop at Brasstown Bald, Georgia's highest peak at 4,784 feet. Trails traverse the mountain and the observation deck offers breathtaking panoramic views of mountains and valleys.
If a wealth of trails is the hallmark of the Chattahoochee, bountiful game is the signature of the Oconee. There are also plenty of excellent fishing opportunities.
The unique features of Georgia's national forests make these land a place of exploration and wonder. They are unique lands rich with recreation opportunities, history and spectacular scenery.
Whether you stay for a night or an entire week, a Dahlonega visit means restful nights with charm and hospitality for those looking for a soothing escape. From romantic getaways to campgrounds where you can sleep under the stars, Dahlonega...
Read More