Consolidated Gold Mine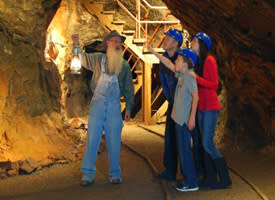 The Consolidated Gold Mines and gold processing mill, built in the early 1900s, was the largest gold mining operation east of the Mississippi River. Most of the mill buildings are gone but the tunnels deep below in gold-bearing rock still remain. Travel 200 feet underground and 100 years back in time to explore those same tunnels with the Underground Adventure package, where you and your family will enjoy a 40-minute underground adventure of the mine with one of our friendly and knowledgeable staff members. As you descend the stairs, you will hear tales of miner's struggles to uncover gold deep within large Quartz veins. Your tour guide welcomes interaction from the group as you experience life as a miner at the turn of the century. After your tour, you will receive gold panning instructions from some of the best panners in the world, having won numerous awards in the field. Then you will get a chance to try if for yourself and hopefully you'll strike it rich!
The Mines remain at a comfortable 60 degrees year-round. Tours are conducted daily. Your tour guides are actual miners who are open to questions during your tour of underground mine tunnels. This is a walking tour - guests enter the mine via three flights of stairs and two ramps. Tennis shoes are recommended and closed-toed shoes are a must! Flip Flops are not permitted for the Underground Adventure. Strollers are not permitted in the mine.

(706) 864-8473
185 Consolidated Gold Mine Road, Dahlonega, Georgia 30533
www.consolidatedgoldmine.com
Open Mon - Fri 10am-4pm; Sat & Sun 10am-5pm. Closed some holidays.
Dahlonega's historic public square is the hub of the county's thriving tourism industry, and residents enjoy the city's charm as much as visitors do. Connected by shaded brick sidewalks, shops, galleries, restaurants, and...
Read More
The history of Dahlonega and Lumpkin County is extremely rich and now you can learn all about our deep historical roots at your leisure with the Historical Markers of Lumpkin County Guide and App! Historical Markers are erected in locations...
Read More