Wildlife & Black Bears
If you spend enough time hiking or picnicking in the North Georgia mountains, odds are it's only a matter of time before your next bear encounter. Fortunately, the black bear tends to be friendly and will not attack humans unless provoked.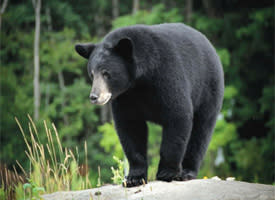 Of course, the best way to avoid run-ins with Georgia's largest mammal is taking measures to prevent a bear encounter.
For starters, you need to know that bear attacks in the wild are extremely rare. But there are some bear safety tips you can take away that will make you feel more relaxed and minimize your risk when you are traveling in areas that are home to bears.
What do I do if I See a Bear?
If you see a bear remain watchful. Do not approach it. If your presence causes the bear to change its behavior (stops feeding, changes its travel direction, watches you, etc.) - you're too close. Being too close may promote aggressive behavior from the bear such as running toward you, making loud noises, or swatting the ground. The bear is demanding more space. Don't run, but slowly back away, watching the bear. Try to increase the distance between you and the bear. The bear will probably do the same.
If a bear persistently follows or approaches you, without vocalizing, or paw swatting, change your direction. If the bear continues to follow you, stand your ground. If the bear gets closer, talk loudly or shout at it. Act aggressively to intimidate the bear. Act together as a group if you have companions. Make yourselves look as large as possible (for example, move to higher ground). Throw non-food objects such as rocks at the bear. Use a deterrent such as a stout stick. Don't run and don't turn away from the bear. Don't leave food for the bear; this encourages further problems.
Most injuries from black bear attacks are minor and result from a bear attempting to get at people's food. If the bear's behavior indicates that it is after your food and you're physically attacked, separate yourself from the food and slowly back away.
If the bear shows no interest in your food and you're physically attacked, fight back aggressively with any available object - the bear may consider you as prey!
Backcountry and Trail Precautions
Don't surprise bears. If you're hiking, make your presence known. Make noise by talking loudly, singing, or wearing a bell.
If you can, travel with a group. Groups are noisier and easier for bears to detect.
Keep in mind that bears tend to be more active at dawn and dusk so plan your hikes accordingly.
Stay on marked trails and obey the regulations of the area you're hiking/camping in.
If you're hiking in bear country, keep an eye out for tracks, scat, digs, and trees that bears have rubbed.
Campground and Picnic Area Precautions
Never cook or store food in or near your tent.
Hang food and other items with strong odors (ie, toothpaste, bug repellent, soap, etc.) out of reach of bears. Hang items at least 10 ft above the ground and if no trees are available, store your food in airtight or bear-proof containers.
Change your clothing before you go to sleep; don't wear what you cooked in to go to bed and be sure to store smelly clothing along with your food/smelly items.
Keep the area clean. Be sure to wash dishes, dispose of garbage, and wipe down tables.
Burn garbage completely in a hot fire and pack trash out - don't bury it.
Help Protect Our Bears!
The black bear's keen sense of smell leads it to insects, nuts, and berries, but the animal is also enticed by the tantalizing smells of human food and garbage such as hot dogs, apple cores, chips, and watermelon rinds left on the ground in picnic areas, campgrounds, and along trails. Feeding bears or allowing them access to human food and garbage causes a number of problems:
It changes the bear's behavior and causes them to lose their instinctive fear of humans. Over time, these bears may begin approaching people in search of food and may become more unpredictable and dangerous.
Bears that obtain human food and garbage damage property and injure people. These bears pose a risk to public safety. They can also teach other bears this dangerous behavior. Often, they must be euthanized.
Studies have shown that bears that lose their fear of people by obtaining human food and garbage never live as long as bears that feed on natural foods and are shy and afraid of people. Many are hit by cars and become easy targets for poachers.
Visitors are urged to view all wildlife at a safe distance and to never throw food or garbage on the ground or leave it unattended. Garbage Kills Bears!
Hancock Park, located in Historic Downtown Dahlonega at North Meaders Street and Warwick Street, features a wood and timber pavilion perfect for concerts and special events. Hancock Park holds concerts, outdoor movies, the farmers market,...
Read More
There are many hiking trails both for day hikes and backpacking trips near Dahlonega in the Chattahoochee National Forest Trails of Lumpkin County. Download the "Hiking Trails in the Dahlonega Area" guide to learn about 22 trails in...
Read More