Downtown Farmers Market
The Dahlonega Farmers Market is a weekly event that brings local residents to the downtown business district. It promotes a sense of community and provides fresh, locally grown produce to customers, while offering agribusiness sales opportunities to growers from Lumpkin and nearby counties.
All items at the Market are locally grown and seasonal. In May, buy locally grown plants, such as vegetable, garden, landscape, and house plants. With the arrival of summer, you can buy vegetables and seasonal fruits, plus jams, jellies, and baked goods containing locally grown ingredients.
The Market season runs Saturdays (or until inventories are sold out) from May until October.
(706) 482-2707
Hancock Park, North Meaders Street & Warwick Street, Dahlonega, Georgia 30533
www.facebook.com/DahlonegaFarmersMarket
Open seasonally. Check website for details.
 
Dahlonega Harvest Hub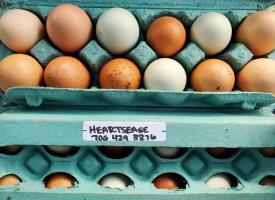 Dahlonega Harvest Hub is a community driven farm stand working to create a robust and resilient local food system in Dahlonega, Georgia. Their mission is to connect our community to good local food from family farms through a weekly market through the end of November.
Open Saturdays 8am-1pm from June to November.
dahlonegaharvesthub@gmail.com
4 Camper Park Road, Dahlonega, Georgia 30533
www.facebook.com/Dahlonegaharvesthub
Hancock Park, located in Historic Downtown Dahlonega at North Meaders Street and Warwick Street, features a wood and timber pavilion perfect for concerts and special events. Hancock Park holds concerts, outdoor movies, the farmers market,...
Read More
Located just above Spirits Tavern, Dahlonega Walking Tours offers 5 different walking tours of the Historic Dahlonega Square: The Historic Ghost Walk, The Ghosts and Grapes Wine Tour, Bos and Brews Pub Crawl, Dahlonega History Tour and our...
Read More