UNG Annual Outdoor Sculpture Exhibition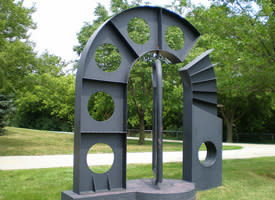 The exhibition is free and open to the public, with a self-guided walking tour available at the Information & Welcome Center, just inside North Georgia's main entrance on South Chestatee Street, as well as at the Department of Visual Arts office in Hansford Hall, off West Main Street, in Dahlonega. The hours of the Information & Welcome Center and the Department of Visual Arts are M-F, 8 AM-5 PM. There is parking available to visitors at all times near the parking deck entrance at the end of College Circle, off West Main Street. Large groups should arrange visits in advance—guided tours may be available.
(706) 867-2832
University of North Georgia, Dahlonega, Georgia 30533
www.ung.edu/visual-arts/outdoor-sculpture
Formerly known as the Mountain Flower Art Festival, the Dahlonega Arts & Wine Festival features high-quality arts and crafts booths and a Wine Garden where visitors can sample fine and local regional wines. Hancock Park will also feature...
Read More
"Dahlonega was an incubator for me and many upcoming bands. It's an ideal place to listen to some really outstanding music in a fun atmosphere, where you can discover new talent and hear some of the great established...
Read More