It's that time of year again. FALL! Every third weekend in October, the annual Gold Rush Days Festival brightens up the town. So now, if you're wondering, "How can I make the most of this weekend?" well, we have you covered! We've created a 3-day itinerary for anyone and everyone interested in making their weekend GOLDEN.
Brief History of Gold Rush Days
For those who do not know what the Gold Rush Days Festival is, in short, it is the biggest weekend of the year in Dahlonega. The festival was created to celebrate Dahlonega's history as America's first major Gold Rush and gives everyone the feeling of reliving what helped put Dahlonega on the map. With hundreds of thousands of people visiting Dahlonega over the two-day festival, it is a fantastic chance to discover so much of what this little mountain town offers. However, with so much to see and do over the weekend, it can be daunting trying to make plans to make sure you get to experience as much of Dahlonega as possible. With that in mind, here's a quick outline of how to spend each day to make the most of your time in the heart of the Georgia mountains.
Friday
Your arrival day! Time to check in to your hotel or cabin and relax. Check out all the unique accommodations we have available here. After settling in, it's time for some grub! For dinner, you can venture out into the historic town square, where you can choose from a variety of delicious restaurants. Have a craving for classic American cuisine, Bourbon Street Grill, Spirit's Tavern, or Shennanigans Irish Pub is the place to go. If you're looking for a bit of music with your meal, be sure to check and see if the Crimson Moon or Canopy + Roots is hosting a musical guest that night. Finally, be sure to end your evening in town with something sweet and grab some chocolate from Paul Thomas Chocolates or The Fudge Factory!
Saturday 
Saturday is the official start of the Gold Rush Days Festival, so hit the square and explore the festival to your heart's content! We recommend checking out all the tents and picking up some unique art and souvenirs. Take a picture with the Man in Gold or listen to the local musicians playing on our historical sidewalks. Check out the shops around the square to get an early start on your Christmas shopping. If you're hungry, grab a snack at one of the many food trucks at the festival or if you want to rest your legs, grab a bite at one of the restaurants on the square. Capers on Main has a delicious fig and goat cheese flatbread, while Picnic Cafe & Dessertery has a scrumptious pimento BLT sandwich. 
If you are looking for family-friendly activities outside of the festival, here are a few ideas. Want to explore an old mine, learn about the first gold rush, and even pan for some gold and gemstones? Check out the Consolidated Gold Mine! Want to visit a zoo and see some animals? Check out the Chestatee Wild Life Preserve!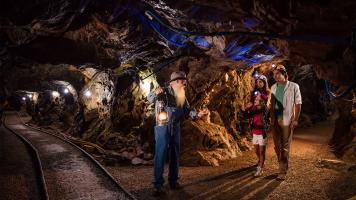 If you are the outdoorsy type, Dahlonega is full of hiking trails to explore! Our local Lake Zwerner has a beautiful path around the lake's circumference that is well-loved by all the locals and is a great spot to fish as well. Our local Yahoola Creek Park even has a disc golf course that is free for everyone to enjoy. And if you and your family love to enjoy river activities, bring your kayaks up for a paddle down the Chestatee River.
And for the wine lovers out there, you'll love to explore all of the wineries close to town. Be sure to check out Montaluce Winery and Restaurant, Wolf Mountain Vineyards, Cavender Creek Vineyards, Etowah Meadery & The Dahlonega Brewery, and more while in town!
Sunday
Since we all know breakfast is the most important meal of the day, start your Sunday morning off right! Wake up early and get brunch or breakfast at some of the restaurants in the square. Then, once your stomach is full, it's time to hit the Gold Rush Days Festival one last time! Make sure you stop by all your favorite tents again and grab that ice cream cone from Connie's or Kilwin's.
Now that you've explored downtown to the fullest, it's time to check out Dahlonega's surrounding area. Just a quick drive through the mountains, and you can visit Georgia's biggest waterfall at Amicalola State Park. Near Amicalola is Burt's Pumpkin Farm, which has tons of family-friendly activities loved by all ages. So pick up your pumpkin before Halloween, go on a hayride through the pumpkin patches, or grab yourself some pumpkin rolls to take home.
As locals like to say, Ellijay is right over the mountain, and it is filled with apple orchards! Fall is the perfect time to go pick apples in the picturesque North Georgia mountains. 
As you head home with a weekend full of memories, we hope you come back soon and explore more of what Dahlonega's Golden Weekends have to offer to you!