There's nothing more refreshing than cooling down with a sweet treat on a hot summer's day or warming up in the winter with desserts straight from the oven! From ice cream to milkshakes to cakes to chocolates, the city of Dahlonega is bursting with favorite flavors and family-owned dessert companies. While you're planning your next outing to North Georgia, swing through Dahlonega's historic downtown area to grab a bite and some sweets at our favorite dessert shops! No matter what time of year, these sweet treats always hit the spot.
The Fudge Factory
Fresh off of their 40th anniversary in May 2022, the Fudge Factory is one of the most beloved spots on the block. This little taste of heaven is family-owned and has been serving up hand-dipped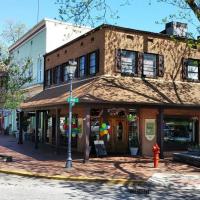 chocolates, barks, toffees, brittles, and over fifteen varieties of cream and butter fudge since 1982. The Owens family boasts the oldest confection in all of Dahlonega. They source fresh ingredients and create mouth-watering recipes like their Peanut Butter Cups, Dipped Pretzels, and Chocolate Covered Boar's Head Bacon. The crunchy brittles include flavors like pecan, peanut, stout beer, and more. The one dessert you simply can't leave without tasting? The Pralines & Pecan Brittle. It's divine!
The Picnic Cafe and Dessertery
The next oldest shop in the game and one of the locals' favorites, the Picnic Cafe and Dessertery has been serving delightful desserts, coffee, and lunches to its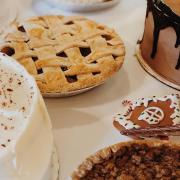 customers for over twenty years. Owners Sam and Julia Norton drew from their own family recipes to create their delicious menu. Originally, Picnic Cafe only served desserts but later expanded to a full menu that features breakfast, sandwiches, ice cream, milkshakes, cookies, muffins, and more. While you should definitely try the food, you can't miss grabbing a slice of cake! Made from scratch, the Carrot Cake is the Nortons' family recipe and remains a staple of the cafe. But the Picnic Cafe's shining star is their Hummingbird Cake. Fruity, nutty, and fresh, this cake is the perfect companion to warmer weather. Enjoy it in the sunshine in the cafe's outdoor seating!
Connie's Ice Cream Parlor
You can find Connie's Ice Cream Parlor right around the corner from the Fudge Factory on the public square downtown. Connie's serves ice cream, cakes, pies, and coffee,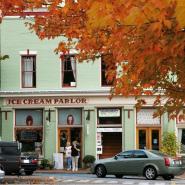 as well as sandwiches, paninis, hotdogs, and burgers. This shop, like many in the area, has been family-owned for twenty years and was recently passed down from grandparents to grandson to keep the ice cream business in the family. Milkshakes and waffle cones can be scooped from twenty-four flavors of ice cream, including birthday cake, cookie dough, strawberry, mint chip, Columbian cafe, praline pecan, and more. Number one on the dessert board – both literally and figuratively – is the Turtle Sundae: vanilla bean ice cream with hot fudge, mixed nuts, and a caramel sauce drizzled on top. You can never go wrong with a classic!
Paul Thomas Chocolates
Across the square from Connie's, Paul Thomas Chocolates serves up chocolates and other goodies with a heartfelt story. Former employees Danny and Micah Mihok fell in love with the chocolate shop as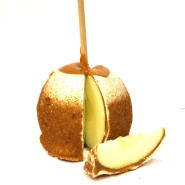 college workers and couldn't bear to see it close when founder Paul Thomas Hoffman retired in 2019. Hoffman happily passed on his legacy to Danny, Micah, and their brother Josh. They have since served up plenty of homemade chocolate confections, caramel apples, coffee, hot chocolate, and more to the city of Dahlonega. No matter what the season, their Apple Pie Caramel Apples and signature Chocolate Covered S'mores always hit the spot! Curious about what goes into the dessert process? Head over to Paul Thomas's Instagram to get a behind-the-scenes look at some of their famous recipes. They love to collaborate on desserts with local restaurants and breweries, like Bourbon Street Grill, so you might stumble upon a real treat when you visit!
Kilwins
The newest addition to Dahlonega's dessert scene is Kilwins. An old-fashioned confectionery, Kilwins lets you step back in time with their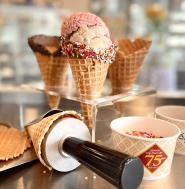 delicious ice cream, fudge, chocolates, and other confections. You can order from over thirty-two flavors of ice cream, all made from original recipes dating back to 1947, served in Kilwins' freshly made, signature waffle cones. Stop in on Waffle Cone Wednesday to try one! The crowd favorites on Kilwins' menu? The Signature Pecan Turtle Caramel Apple and the Mackinac Island Sea-Salt Caramel Fudge. The caramel apples are made with crisp Granny Smith apples, rolled in pecans, and drizzled with delectable chocolate. The fudge is cooked and hand-paddled into perfect, caramel-swirled pieces. It's hard to go wrong with recipes that have lasted seventy years!
With so many delicious treats around downtown Dahlonega, you'll have a full supply to last you all summer long and into the fall. On the Fourth of July, lots of restaurants and desserteries will be out in the square offering sidewalk sales of their bestselling desserts for you to try. While you're celebrating the Fourth in Dahlonega, make sure to cool down with an iced coffee as you check out fireworks, Art in the Park, and other activities. Pumpkin and cinnamon flavors return in the fall, and the chocolate and peppermint goodness of Christmas treats isn't far behind! For the passionate dessert lovers, the Chocolate Crawl returns next March with a week of free samples and mini desserts from Fudge Factory, Picnic Cafe, Connie's, Paul Thomas, Kilwins, and more. 
Downtown Dahlonega is the place to be when it comes to serving up your favorite desserts, and we hope to see you enjoying some sweets soon!