The State of Georgia has some beautiful secrets. Still, one of the best-kept secrets is the State Parks located in Northeast Georgia. During leaf season, some of the best viewings can be found in these hidden gems that are a hop and skip from Dahlonega. Georgia State Parks come in all shapes and sizes. Some are Historic Sites, Traditional State Parks, and Adventure Lodges. Each has their own defining thing that makes them fit into these categories. Let's delve into the award-winning State Parks of the Georgia Department of Natural Resources State Parks & Historic Sites division and please remember there is a park pass or entry fee to enter these State Parks and Historic Site, but well worth the nominal fee to enjoy. 
HISTORIC SITES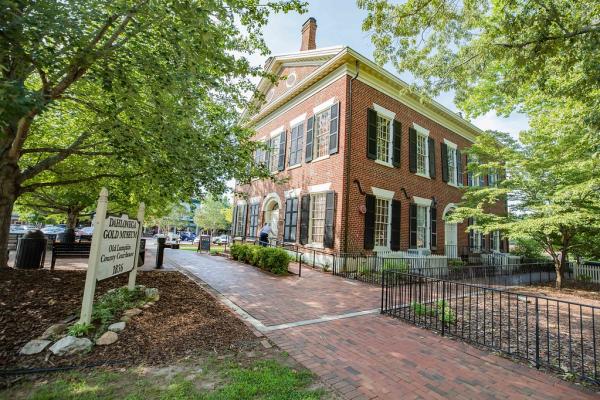 Right here in Dahlonega, you can find the smallest park. Dahlonega Gold Museum State Historic Site, coming in at a whopping .25 of an acre. This site was used as the Lumpkin County Courthouse from 1836 to 1965 and is a "must do" while visiting Dahlonega. The State of Georgia purchased the building in 1965 and is now one of the most visited State Historic Sites in the State Park system. 
In 2018, the Gold Museum underwent a significant renovation, including a one-of-a-kind display case that shows a complete collection of the Dahlonega Minted Gold Coins, telling the compelling story of the 1829 Gold Rush and how Dahlonega came to be. Check out one of their many special events, like Christmas Open House, Au-Some Rocks, and Super Museum Sunday.
TRADITIONAL PARKS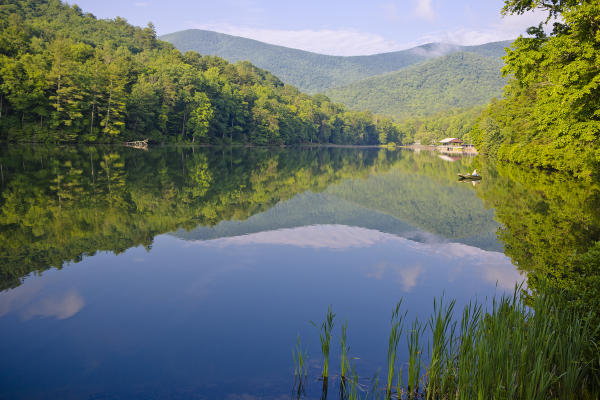 Vogel State Park is one of Georgia's oldest and most beloved state parks. It has the complete package: history, breathtaking views, cabins, campsites, and hiking trails. Located on Blood Mountain in the Chattahoochee National Forest. Vogel is the epitome of traditional parks with its 22-acre lake, great fishing, and seasonal boat rentals. During Leaf Season, this park is painted with gold, maroon, vibrant reds, and orange landscapes, making it one of the best places for leaf peeping in the southeast.  Come see for yourself and take a two-mile leisurely stroll around Lake Trahlyta.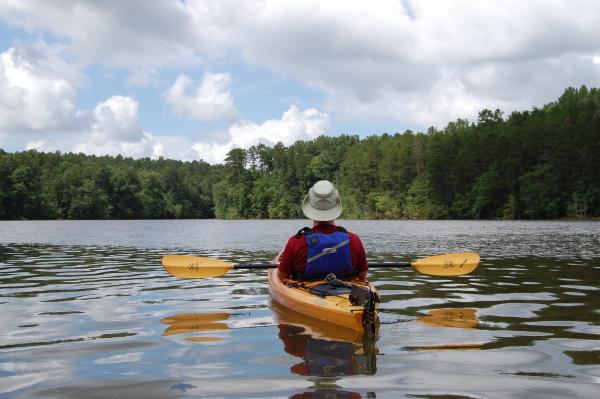 Don Carter State Park is one of the newest state parks in the system and is located on the north end of Lake Lanier. Fun fact: It's the only state park found on Lake Lanier. Don Carter is the perfect RV Camping place to give you and your family that well-deserved relaxation. Don't have a camper, no worries. They also have primitive camping and tent camping available. While enjoying this park, take advantage of the 14-plus miles of hiking trails that range from easy to complex, or rent one of their kayaks and experience solidarity from the water.  
ADVENTURE LODGES OF GEORGIA PARKS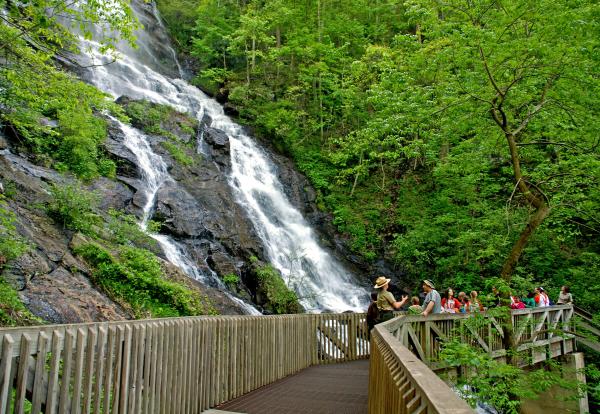 The Adventure Lodges are not only places to discover or explore but have all the offerings of traditional parks with a little more glam. Places for large gatherings such as weddings, conventions, and dining opportunities find their home in these State Parks. Amicalola Falls State Park is a destination within itself. The largest cascading waterfall east of the Mississippi River resides on the property and the approach trail to Springer Mountain, where the Appalachian Trail begins or ends, depending on whether you're a southbound or northbound hiker. 
They offer educational programs regularly and have activities for the whole family to enjoy, such as live Bird of Prey programs and Snakes Alive! Suppose you are up for a moderate to strenuous hike. In that case, I'd recommend taking the Base of Falls trail to the middle viewing of the waterfall. You won't be disappointed. If hiking isn't your thing, ask staff how to get to the ADA Trail in the middle of the mountain.