Don't let winter push your romance into a deep freeze. Escape to Dahlonega, Georgia, where romance sizzles all year long. Located about an hour north of Atlanta and nestled in the foothills of the Blue Ridge Mountains in the heart of Georgia wine country, Dahlonega is a perfect place to spend quality time with your favorite special someone.
Surrounded by the spectacular beauty of mountain vistas, rushing waterfalls, and rolling vineyards, Dahlonega is a natural setting for you and your sweetheart to relax, rejuvenate, and reconnect. Whether you're planning a wedding, engagement, honeymoon, anniversary, or simple alone time, we've got you covered. From candlelit dinners to cozy cottages, hot tubs to art galleries, architecture to wine, boutique shops to culinary experiences, historic treasures to the great outdoors, you'll find plenty of fun to enjoy together.
To jump-start planning your trip, consider these romantic possibilities.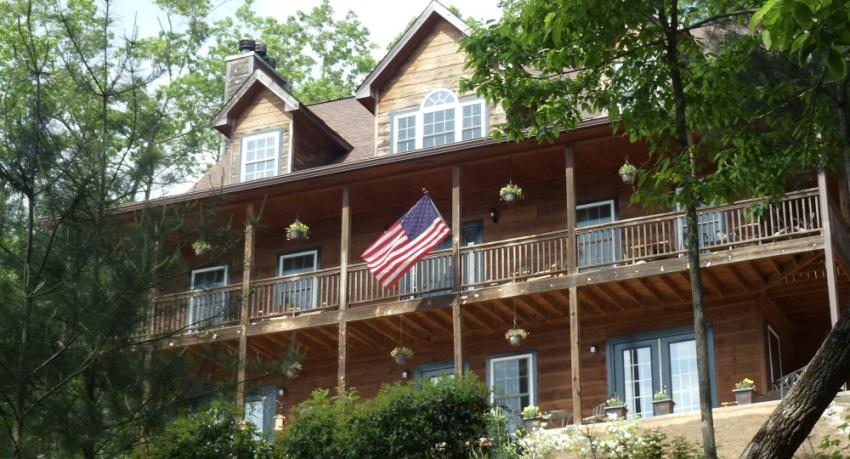 Romantic Cabins
When it comes to personal love nests, it's hard to beat a cabin. Whether you prefer cozy or cavernous, you'll find a hideaway that fits your style in Dahlonega. You and your love can spend lots of quality time alone together yet still be near attractions, adventures, shopping, wining and dining venues if and when you decide to venture out.
Long Mountain Lodge offers a variety of upscale accommodations on 14 acres in the Chattahoochee National Forest. All lodge rooms and suites boast sunset mountain views, plus were specially built for privacy (with thoughtful details like no rooms sharing a common wall). Sink into a jetted tub, canoodle in front of a wood burning fireplace, relax on a private patio wearing a sumptuous robe, and savor three-course breakfasts delivered to your door each morning. For an even bigger wow factor, check into Waterfall Cottage, an isolated retreat located about 50 feet from the stunning Cane Creek Falls. Or try the unique Tree Top Room with its large private deck and private screened porch overlooking two ponds. Add-on packages invite you and your love to hike sections of the Appalachian Trail, visit nearby wineries, learn fly fishing, or enjoy a pub crawl during your stay.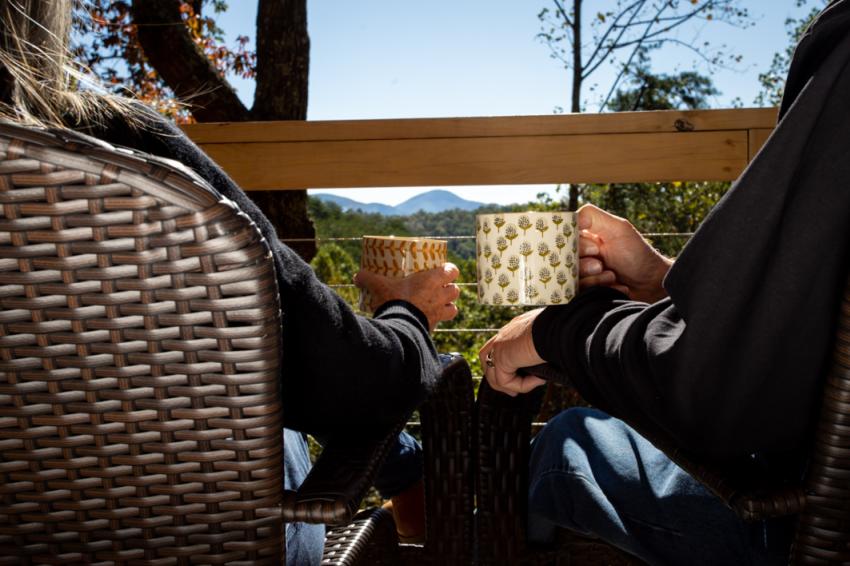 (Photo Courtesy: Pour Over Photography)
Stay Dahlonega is a collection of seven stylish properties across Dahlonega, all offering a unique taste the good life. Roast marshmallows for s'mores over an outdoor fire pit. Sink into a comfy mattress. Pose for selfies against enviable backdrops. The Daybreak treehouse boasts amazing mountain views, eye-popping décor, and custom details to ensure a luxurious stay. The glam Wander Inn, sitting on seven acres just minutes from downtown Dahlonega, combines seclusion and convenience. Piccolo on Pine, located blocks from the Dahlonega square and minutes from outlet shopping, elegantly marries vintage charm with modern amenities.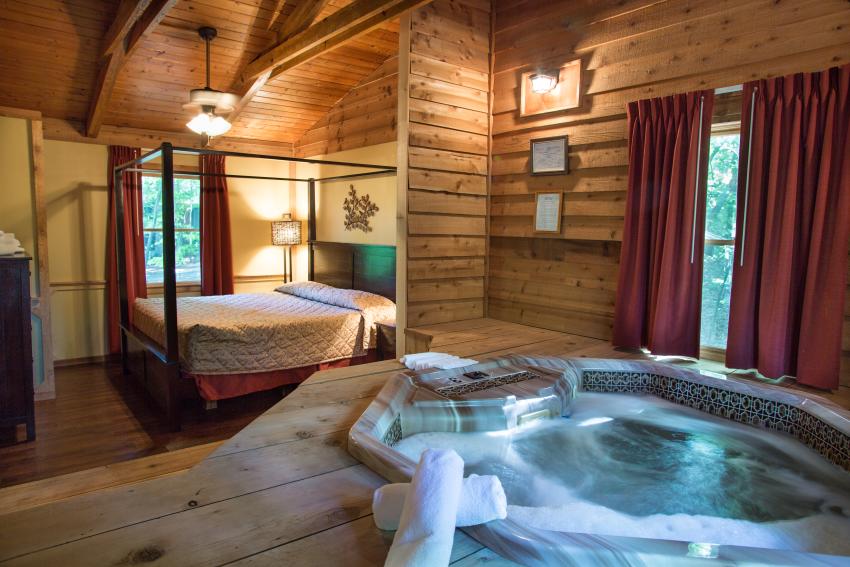 (Photo Courtesy: Forrest Hills Resort)
Forrest Hills Resort presents a variety of bewitching accommodations on its 140 acres, including 32 private cabins each secluded on an acre. Alluring amenities like private hot tubs, fireplaces, porch swings, and king beds encourage togetherness. Walk around the resort to discover its gazebos, picnic areas, firepits, horseshoe pits, and other surprises. Enjoy candlelit dinner in The Secret Garden, a dining room reserved exclusively for couples. Without leaving the property you can share a horse drawn carriage ride, couple's massage, hike, and picnic of local wines, cheese, and charcuterie from the general store. The "Elopement Package" simplifies tying the knot or renewing vows. Customize your stay with any combination of 30 add-ons, including tickets to area attractions (like zip-lining at Amicalola Falls State Park, kart racing at AMP Motorsports Park, historic Dahlonega ghost tours, and more), tasty gift baskets, hosted experiences, and souvenirs.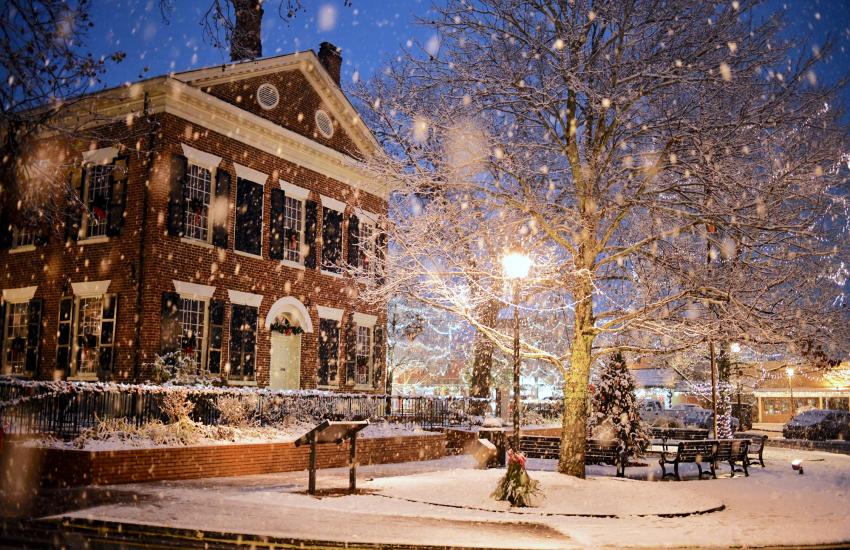 (Photo Courtesy: Cottrell Photography)
Dreamy Experiences
The Dahlonega Commercial Historic District, which is listed on the National Register and an award-winning Main Street City, ranks among the South's most charming town centers—stepping onto the Square feels like walking into a postcard. It's a delightful place to stroll hand in hand along brick sidewalks and among 19th-century buildings while visiting galleries and shops, wine tasting rooms and local eateries. From art to jewelry, chocolate to wine, romantic gifts abound.
For a more vigorous trek in fresh mountain air, take a hike. Dahlonega is known as an Appalachian Trail Community, since 16.2 miles of the famed trail run through Lumpkin County, and boasts 22 trails within 32 miles of downtown. Among the day hike options, consider climbing to the summit of Preachers Rock, a two-mile route with amazing views.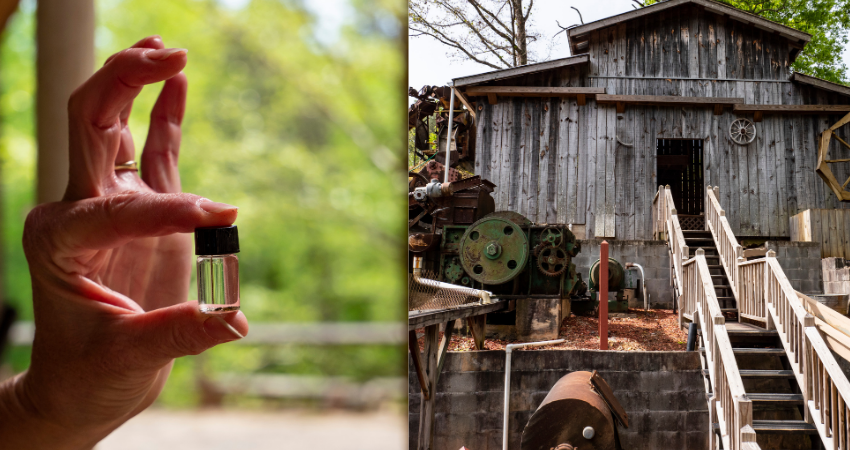 Home to the first major U.S. Gold Rush, Dahlonega continues to gift guests with golden opportunities. Delve into history at the Dahlonega Gold Museum where fascinations include the fact that Dahlonega minted more than $6 million in gold between 1838 and 1861! At Crisson Gold Mine, home of Georgia's only working stamp mill, you're guaranteed to find gold and gems, which can be made into jewelry right on site. Owner Tammy Ray is happy to help stage magical proposals, hiding a ring where your beloved is certain to find it. Many couples return year after year to add to their growing collection of Dahlonega treasures.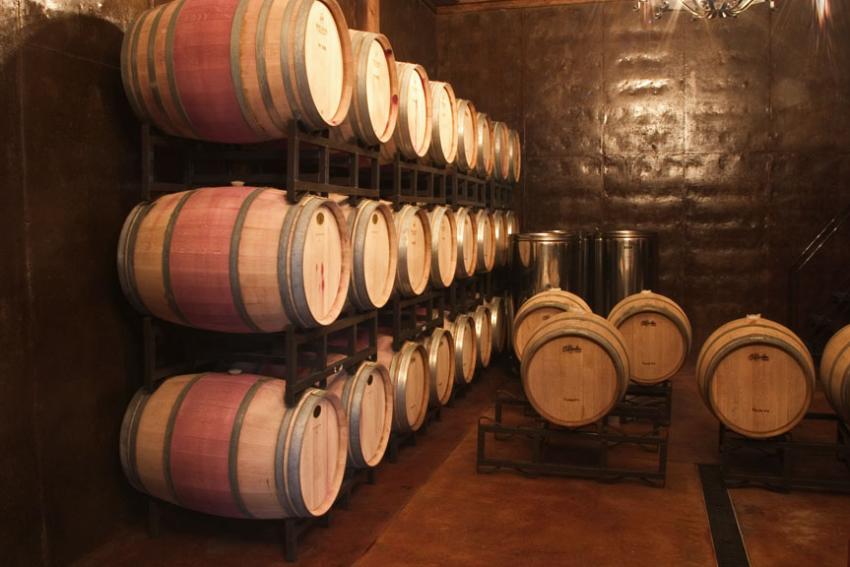 Tasty Memories
Dahlonega is home to six wine tasting rooms and eight wineries—the highest concentration of wineries, vineyards, and tasting rooms in Georgia! Explore the variety of Lumpkin County's high-quality, award-winning wines with tastings and behind-the-scenes tours. Accent Cellars, located just two minutes from downtown, crafts bold, savory white and red wines. Adding to its already compelling ambiance, it stages live music every Saturday. Wolf Mountain Vineyards & Winery produces 15 different wine varietals and blends from locally-grown grapes, including multiple sparkling wines that are popular for weddings and special occasions. At the Vineyard Café dig into Sunday brunch, lunch, and periodic winemaker dinners that pair wines with creations by Executive Chef Alex Dunston. The elegant Montaluce Winery & Restaurant brings a taste of Italy to the Georgia mountains with its balanced, fruit-forward wines. It also hosts fun couples' experiences, including a 1.8-mile wine hike that incorporates the vineyards and winery as well as deluxe private tastings of six estate wines with a sommelier-led property tour.
Montaluce also presents an eclectic array of farm-fresh cuisine at its restaurant. Executive Chef Christopher Matson's menu showcases seasonal, local ingredients in dishes designed to complement Montaluce wines with options like Tuscan flatbread, pasta bolognese, osso buco, and Mediterranean branzino. Mouthwatering flavors, impressive views, plus warm fires set a romantic mood indoors and out.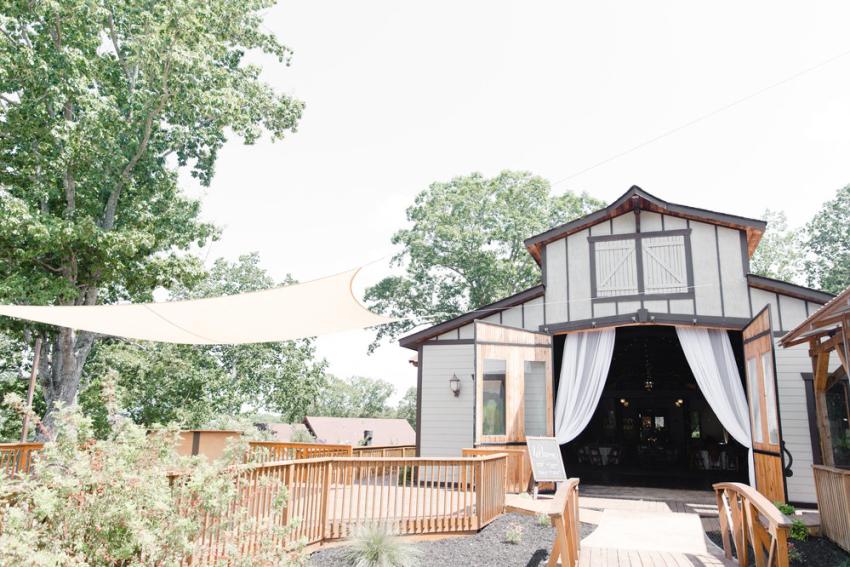 White Oaks Bistro blends delicious fare and gracious service with beautiful views. During coronavirus the focus has shifted to private events like rehearsal dinners, but the plan is to re-open for public dinners when possible with seating indoors and on the deck. In the meantime, it continues to host special theme events, including wine dinners, bourbon dinners, Sunday brunches, and other creative presentations of Chef Travis Collum's skillful dishes like shrimp & grits, grilled filet mignon, pan-seared trout, and linguine with braised brisket. With the same commitment to quality and elegance, White Oaks Barn hosts larger events, including weddings of up to 250 guests. The hillside pergola with Three Sisters Mountains in the background is a breathtaking spot for photos.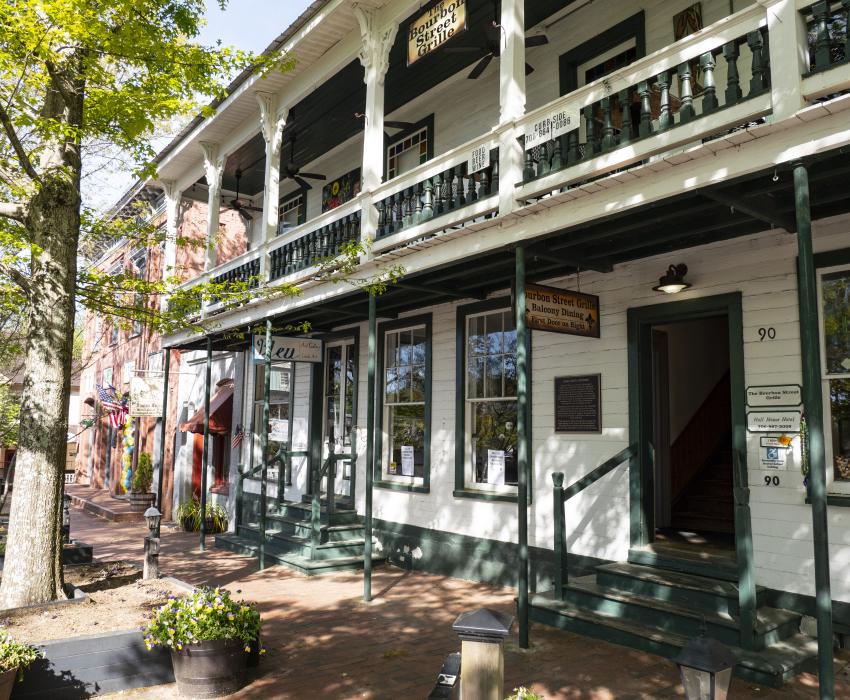 Spice things up at Bourbon Street Grille, which brings an authentic taste of Louisiana to Georgia. Serving brunch, lunch, dinner, and an array of libations, the Cajun-inspired menu offers familiar favorites like jambalaya, gumbo, and blackened redfish alongside comfort foods like burgers and shrimp & grits. From raw oysters to fried alligator, crab cakes to red beans & rice, ribeye to bananas foster, you and your love will find something to tickle your taste buds.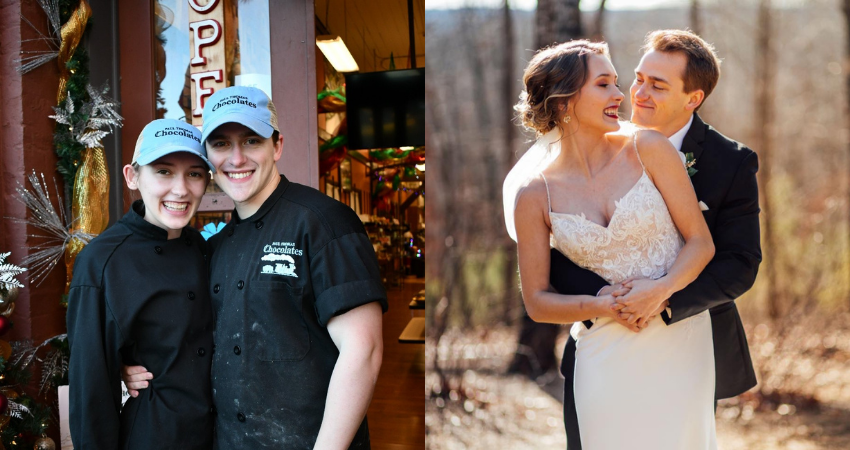 On the Dahlonega Square, Paul Thomas Chocolates crafts ethereal sweets. Truffles and chocolate-covered strawberries are perennial favorites, though the new apple pie caramel and s'more graham crackers both gain fans daily. Couples often enjoy curating their own box of handmade treats, making selections among the wide array of options. Wine pairing guides are available if your goal is to create a truffle collection specifically for red or white wine. Micah Mihok, co-owner and candy maker, not only works on the Dahlonega Square: It's where he met his now-wife and later proposed to her, too.
In Dahlonega, romance can be found wherever you look!