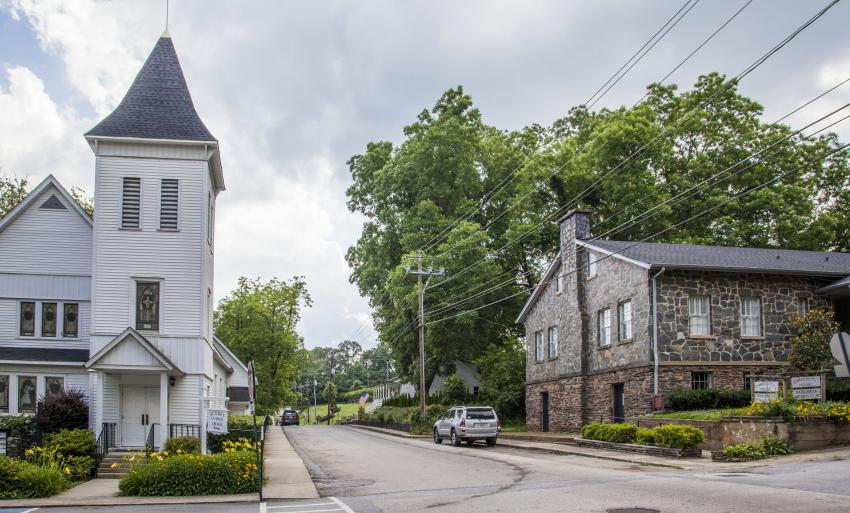 Dahlonega's downtown is tinged with the fragrant strains of wafting chocolate -- especially leading up to and including Easter.  Those chocolate bunnies and their chocolate buddies are extra special this time of year, and it's hard to resist wandering in to one or both of our chocolate shops before Easter Sunday or Sunday afternoon to indulge. Paul Thomas Chocolates, and the Fudge Factory, both have had employees working long hours to produce delightful and delicious treats for -- as they say -- kids of all ages. The Fudge Factory reports that more than 200 pounds of fudge have been applied to Easter candy alone; and Paul Thomas Chocolates estimates that more than 350 pounds of chocolate have been used to create white, dark and milk chocolate bunnies, and various other sweet treats.
But when you look around -- especially downtown -- you realize that Dahlonega's appeal is also rooted in a solid faith base, with beautiful churches and church steeples in every direction. The sound of church bells ring out starting on Good Friday and will be especially present in a call to worship Sunday morning. It makes for the perfect combination.
Spending the entire Easter weekend in Dahlonega avails your family of all interesting sides of an Easter celebration. That includes an Easter Festival at the North Georgia Zoo.
 Another popular community event for the Easter weekend is the Community Easter Egg Hunt, hosted by the Lumpkin County Sheriff's Office, Lumpkin County Family Connections and Build an Ark, and taking place at R Ranch in the Mountains.
On Sunday, Forrest Hills is the place to be for a lavish Easter Brunch and Egg Hunt.
The beauty of the mountains, the taste of chocolate, the peacefulness of churches and the messages conveyed there -- it's all part of the ideal Dahlonega Easter weekend.  Come join us!